3 Examples of a Guided Selling Software
8. June 2018
Minimizing Returns Rate
A guided selling software helps customers make decisions about what to purchase in an online shop, which can have the effect of reducing the rate of returns. In a physical store, we are all familiar with the concept of a sales advisor who is on hand to help us navigate the purchase of a pair of pants or a new TV. But although this is a common sight in retail stores, sales advisors are rarely used in online stores. These three successful examples of guided selling software will show you how you can change this in your online store.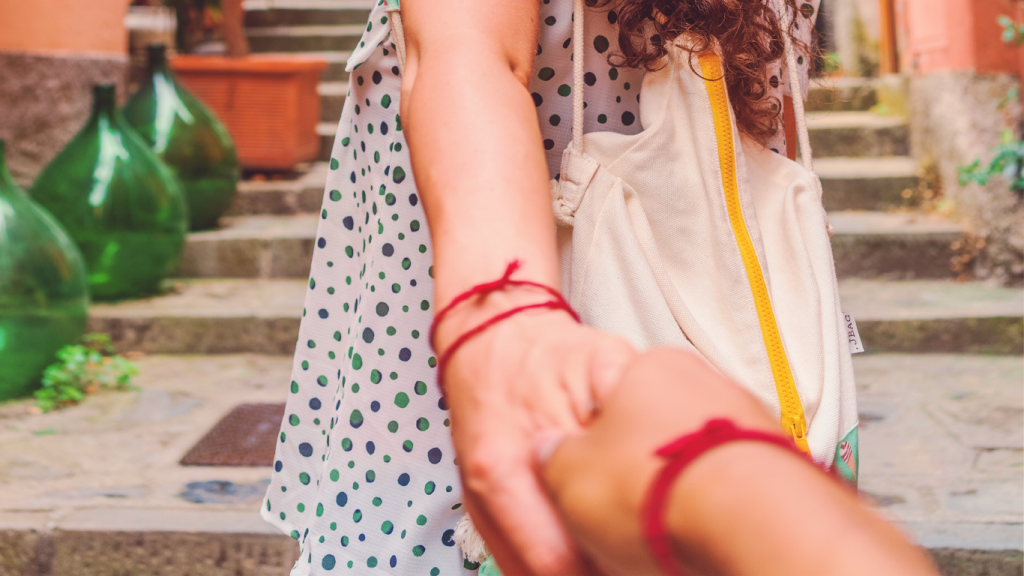 What Is a Guided Selling Software?
A guided selling software is a software program for e-commerce providers that enables you to help your customers decide which products to buy and guides them to the right product. This makes it easier for your customers to select the product they want, with the end result being that they are able to make the right purchasing decision, which, in turn, reduces the returns costs for your business.
Guided selling gives your customers the same kind of experience they get when interacting with a sales advisor in a physical store. Customers receive comprehensive advice and are ultimately guided toward their purchase. In this way, if your customers are not familiar with the properties of a particular product, an online advisor tool can help them identify what they need.
The guided selling software asks targeted questions and uses visual filters to display potential responses. Customers simply answer these questions and the advisor then determines which product will meet their expectations. The guided selling software displays the most suitable products at the top of the results list. The instant result function adapts the results list as soon as customers answer another question. As the suggested products are tailored precisely to their requirements, customers feel more comfortable and more inclined to make a purchase.
When determining which products to suggest, the advisor takes into account not just the current scenario but a customer's entire click and purchase history. This history is collated in a database specific to the online store and used to help with the advice process. All this means that customers do not experience any compromise on service levels when they decide to use your online store.
What Are the Benefits Of a Guided Selling Software?
Often, customers will have an idea of what they are looking for but will struggle to put it into words. This is common with products that are complex or require explanation. In this sort of scenario it can be difficult to find the right product, as requirements will differ depending on use.
The more uncertain customers are, the less likely it is that they will make the purchase. If customers do go on to purchase the product despite not being completely certain, there is a good chance that they will not be satisfied. This, in turn, can lead to the customer returning the product. This is where guided selling software can really help:
It advises customers so that they can work out what they want and need.
It creates awareness of the right product. This makes customers more inclined to make a purchase. They are also more likely to be satisfied with the products they receive.
The results include increased sales and reduced return costs for your company.
Successful Cases Using Guided Selling Software
Lufthansa, ETERNA und Bellybutton
have implemented various types of shopping advisors. The overall result has been the same despite the different approaches: Customers purchase the right product and the shopping experience is easier and more enjoyable.
Guided Selling at ETERNA – It Fits Like a Glove
ETERNA uses a shopping advisor in order to appeal to fashion-conscious shoppers looking for an outfit tailored specifically to their requirements. ETERNA specializes in selling its customers shirts that offer the perfect fit.
The shirt advisor helps customers to identify what they are looking for and then shows them the shirts that are available in the relevant range. Customers can choose their preferred collar style, or details such as a breast pocket. The results are shown along with a percentage figure to indicate the extent to which the shirt they are being offered matches their specifications.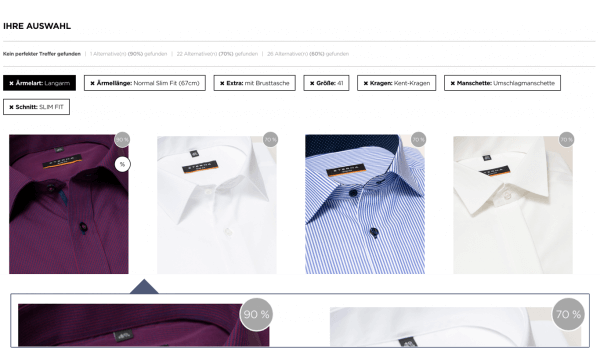 Miles & More's Conversion Rate Is Increasing With the Help Of Guided Selling
The right suitcase is a must for any traveler. If the case is too big, you end up packing more than you really need. But if it is too small, you may struggle to fit in the essentials for your trip. To make sure that its customers do not encounter these problems, Miles & More, a subsidiary of Lufthansa, has introduced the luggage advisor. With such a large variety of luggage on offer from Miles & More, it is easy to feel overwhelmed. But with the luggage advisor, customers will have no difficulty finding the right suitcase to meet their requirements.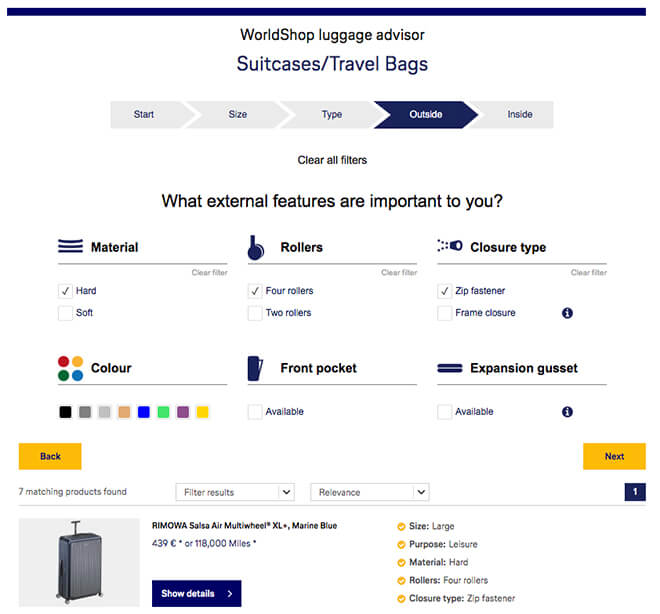 It is very important to Miles & More that customers never encounter a "no results" page. They prefer to include reasoning alongside the suggestions. Each product is presented along with details about which of a customer's stated requirements it meets, and which it doesn't. This means that customers can see at a glance which of their requirements are met by which products.
"Using epoq's guided selling software, we have significantly increased the conversion rate for our luggage products. Along with the recommendation engine, this has become an indispensable part of worldshop.eu." (Thomas Hilus | Manager Digital Marketing | Miles & More GmbH)
Find out more about the guided selling software used by Miles & More in our blog article: Online Produktberater: Wie Miles & More seinen Kunden das passende Gepäck verkauft (available only in German at the moment).
How Guided Selling Has Upgraded Bellybutton's Online Shop
Over the course of a pregnancy, a woman's body changes constantly, which is why when a pregnant woman wants to buy a new pair of pants, the decision is often a difficult one. Often she will not know what size she needs right now, or which trousers will be comfortable.
Bellybutton's online store has responded to this challenge with its fit finder. In just five steps, customers can find the perfect pants. The fit finder asks customers about all the important considerations for the pants. Customers can specify exactly what they want — from the cut of the pants, to the waistband, and even the price. The fit finder also features a size guide to make it easy for customers to quickly find their size and the right level of comfort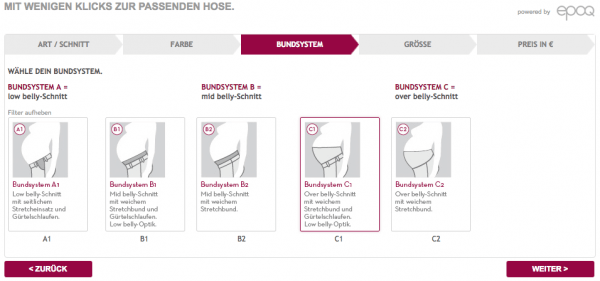 "epoq e-services have increased the value of our store immensely. Top search results and high-quality product recommendations — and all with minimal loading times. In addition, the reporting from epoq Search provides valuable information about how we can further enhance our product strategy." (Martina Kadenbach | Head of E-Commerce | Bellybutton)
Our Verdict: It is possible to deliver quality sales advice in an online shop
Convenient online shopping from home and customer service — these two ideals are no longer mutually exclusive. They now work together in perfect harmony thanks to guided selling software. And the results for you and your customers are great. Miles & More, Bellybutton, and ETERNA have already shown how it can be done.
More Information on Guided Selling from epoq >>
Do you have any questions or remarks? Let us know in the comment section below!
13 out of 14 found this helpful
These articles could also interest you