6 Components of Effective Personalization Software
16. July 2018
Increasing Conversion Rate
Effectively using personalization software can help you to increase conversion rates in your online shop; the software recognizes the requirements and desires of your online shoppers, helping you to provide a personalized service and a unique shopping experience. What exactly is personalization software? How does it work? And what benefits does it offer? Find out more in this blog article.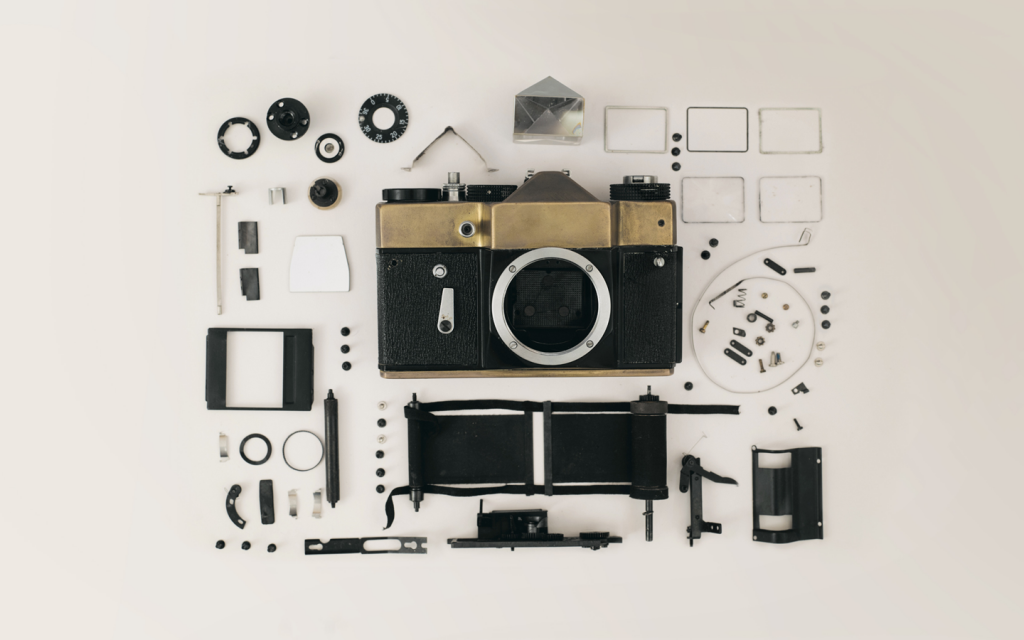 What Is Personalization Software?
Personalization software is a collection of applications for tailoring a digital retail offering to the needs of an individual user. This collection of applications includes various software services that are used to communicate with online shoppers at the different touchpoints (or interaction points) in your online shop.
Communicating with each online shopper allows you to provide a more personalized experience, which, in turn, helps to increase your conversion rate. This is essentially what happens when a salesperson in a physical shop serves customers in person and provides tailored advice. Providing a customized service to each online shopper increases customer loyalty and therefore sales figures.
Components of Personalization Software
Effective personalization software contains six key components that allow you to establish successful one-to-one communication with your online shoppers, thus giving you the opportunity to impress your customers and increase your conversion rate:
1. Intelligent Algorithms
Personalization software is designed to behave like a salesperson in a physical shop, serving each customer individually in line with their needs. This is where intelligent algorithms come in. Personalization software uses artificial intelligence in the form of machine learning methods, such as reinforcement learning. This method enables the algorithms to develop by "learning" and to continue independently optimizing their actions using positive and negative response data from the online shop. For example, if the algorithms recommend a product when the shopper is viewing the cart and the shopper goes on to buy the product, the intelligent algorithms save this response as positive data. This knowledge is then applied to other online shoppers with the same preferences, leading to a higher conversion rate.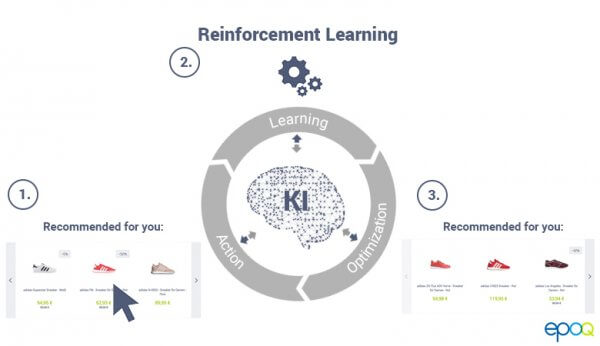 Predictive analytics helps the intelligent algorithms make the correct predictions. Using responses from customers in the online shop, the intelligent algorithms develop by learning, all the while collecting data to support the sales process. Predictive analytics determines the probability of a sale for each individual online shopper. The data used for the analysis comes from a shared knowledge database.
2. A Knowledge Database
The information collected by the intelligent algorithms in the online shop needs to flow into a shared knowledge database. Each service collects information regarding the click and purchasing behavior of online shoppers (as pseudonymized data) and transfers this information to the other services, enabling the services to learn from each other and independently. This arrangement also ensures that no important information is lost, allowing a more comprehensive personalization process.
Before it is integrated, the knowledge database must be prepared by importing your product catalog. Doing so will ensure that the algorithms can start learning about your products, even before being integrated into the online shop.
3. Services for the Entire Digital Customer Journey
To offer online shoppers a unique shopping experience, personalization software must cover the entire digital customer journey, i.e., it must establish one-to-one communication between the customer and the online shop from the initial transaction phase through to the after sales phase.
Personalization software must therefore tackle four "worlds of experience", i.e., the software must guide, advise, inspire, and connect. A software service is assigned to each world of experience and takes responsibility for communicating with shoppers in the relevant scenarios.
Intelligent Search is a software service that guides online shoppers around the online shop, helping them to quickly navigate to the product they wish to purchase and, in turn, reducing the bounce rate. Guided Selling software ensures that online shoppers buy the correct product and feel that they have been given meaningful advice, leading to fewer returns. A Recommendation Engine compares relevant recommendations and inspires online shoppers to visit different pages of the online shop, resulting in an increase in the cart value. Finally, Personalized Emails ensure that customers come back to the online shop as a result of receiving information relevant to their needs. These four software services are required in any effective personalization software so that all four worlds of experience can be covered.
4. A Modular Approach for the Individual Services
Personalization software must contain the above four software services for the entire customer journey to be truly personalized. However, using services that are modular in design can give you a certain degree of flexibility at the beginning of your personalization process. This approach will allow you to start with one service and one world of experience, and build up the level of personalization from there.
5. A Code Snippet for Integration
Integrating the personalization software is a quick and easy process. It's usually sufficient to use a code snippet when integrating the software into your online shop. Doing so will establish a connection to the knowledge database, and therefore to the software services. The intelligent algorithms can begin collecting data about the click and purchasing behavior of your online shoppers immediately —
and after that, everything should run automatically. The intelligent algorithms need to transfer the information about this behavior to the knowledge database so that it's accessible to all of the software services.
A different code snippet is required for visual elements, such as a recommendation widget for suggesting products. However, this is only necessary if you do not have any corresponding widgets already integrated into your online shop, or if you wish to alter the design or add new functions.
6. A Backend for Configuring the Services and Measuring their Success
A backend for the personalization software is essential if you wish to measure the success of the software and make adjustments. The backend contains key figures and analyses for each of the software services. In addition to measuring success, the backend is where you can make adjustments for the purpose of increasing sales, allowing you to control the level of personalization in your online shop and test new marketing strategies.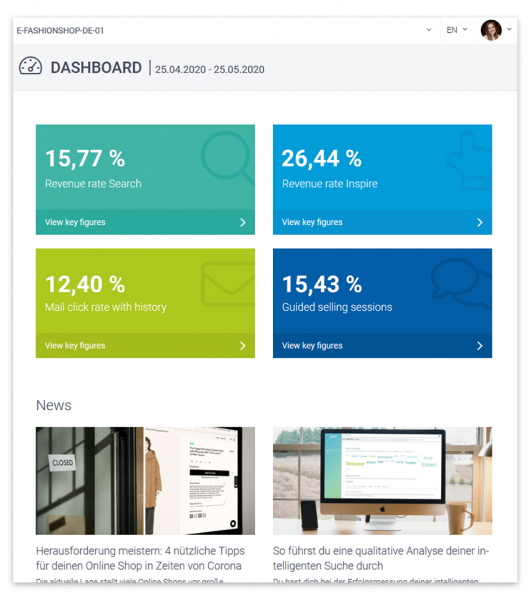 Conclusion: Personalization Does Not Mean Instantly Personalized
Six must-have components are required to guarantee effective website personalization. These components will help you to ensure that the personalization software fulfills your requirements. Intelligent algorithms, a knowledge database, services that support the entire customer journey, a modular structure, quick and easy integration, and using a backend should therefore be your key focus areas. With this approach, you can ensure that your online shop is well prepared for one-to-one communication and the desired boost in conversion rate is achieved.
Find out how Internetstores uses the Reco Engine and achieved a 7.6 % increase in sales:
Read Case Study now!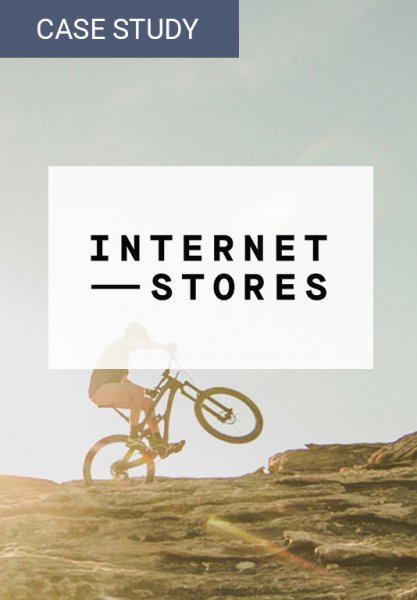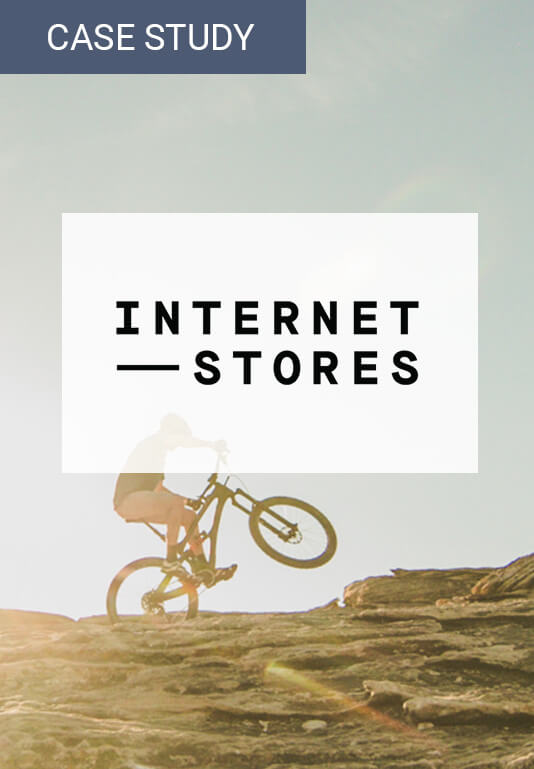 More information about personalization in e-commerce >>
Do you have any questions or suggestions regarding this article? Please use the comment function!
2 out of 2 found this helpful
These articles could also interest you