The Added Value of an Efficient E-Commerce Site Search
23. March 2017
Reducing Bounce Rate
Up to 80% of visitors use exclusively onsite search engines to find products in online stores. This figure makes it easy to see why an efficient, user-friendly site search engine is vital – without it, visitors might abandon their search and leave the site. But what actually constitutes an efficient e-commerce search engine? What features should it include? And what results should the search yield? These are all important questions that need to be addressed when selecting a site search engine.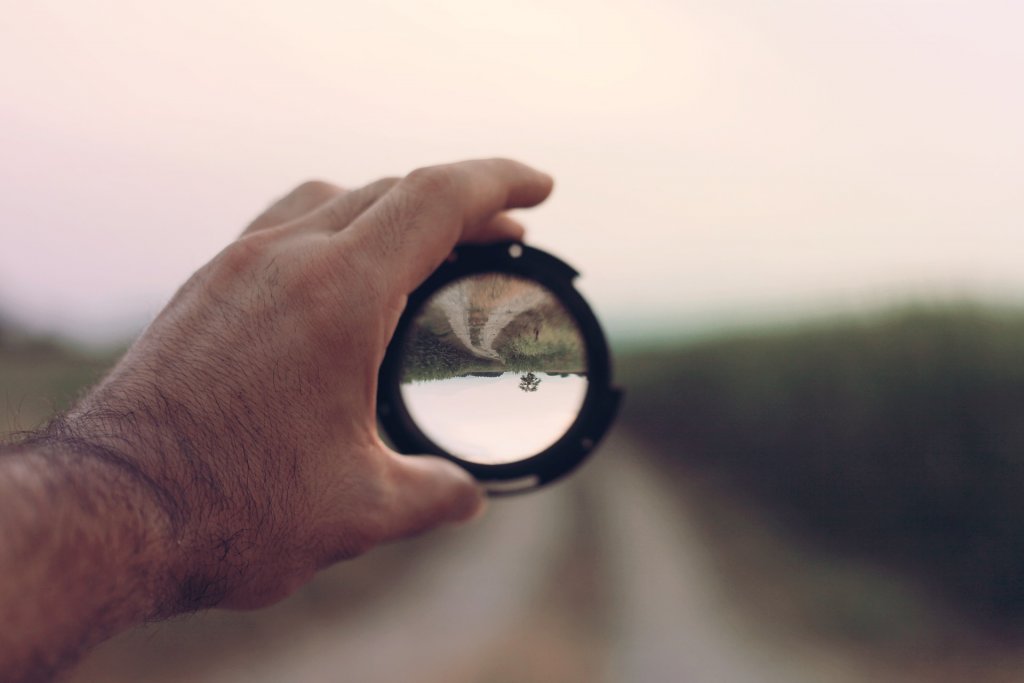 What Are the Benefits of Integrated Onsite Search Engines for Online Store Systems?
Around 25% of online shops use the standard search engine provided by whatever online store system they have opted to use. These search engines are usually included in the purchase price of the online store system at no extra cost, and can be easily integrated into the site. However, standard search engines often only include the essential basic features, such as full-text search and rudimentary filters. Efficient, user-oriented features such as an error tolerance or autocomplete function are generally lacking. The decision online shop owners face is whether the benefits of sticking with the standard search engines — namely, saving on the additional costs and effort required to integrate a different search engine — outweigh the disadvantages, i.e., the fact that the standard functions are inefficient in most cases. For smaller stores and new businesses in particular, using the search engine integrated within the online shop system can be the best way to make sure that they are actually able to provide some kind of a search function. However, at the point at which the search engine needs to be adapted to the individual requirements of the user, e-marketers are left with little choice but to find a more efficient site search solution.
What Does Efficiency Mean in Terms of a Site Search?
If the onsite search engine is too basic, a high share of customers is likely to abandon the search, either because they are unable to find what they are looking for or because the site returns no results. This is exactly what the more efficient site search engines seek to prevent. So in terms of site search engines, efficiency is all about speed and intelligence. Speed guarantees that search results are calculated and displayed within the shortest possible time—usually in milliseconds—and that the autocomplete function loads in an instant. The intelligence factor comprises an intelligent algorithm that calculates search results in a targeted manner, takes into account automatic and manual adjustments, and displays the matching results. This is essential in e-commerce in particular, as it allows the user to find their bearings within the range of products on offer and navigate directly to the product details page for the relevant product.
What Features Does an Intelligent Site Search Offer?
The intelligence of a search engine can be demonstrated by five features, all of which should form a part of every efficient onsite search engine:
Understanding of the search entry
Every visitor has a different approach to their search. This depends partly on their own level of knowledge, partly on geographical and demographic factors, and partly on their personal preferences. The search algorithm must therefore be able to get to grips with various terms and spellings in order to understand the search entry. This begins with the differences between singular and plural terms, but also involves combined entries such as searches containing multiple words or full sentences. Furthermore, an intelligent onsite search engine must be able to recognize synonyms (e.g. stockings = hose) and consider regional differences.
Error tolerance
Error tolerance forms an essential part of a site search as it makes allowances for errors within the search entry, such as mistakes and incorrect spellings, and eliminates them by means of an algorithm, allowing the user to continue their search without being confronted with a "no results" page.
Autocomplete function
Based on the combination of letters entered up to that point, the autocomplete function generates suitable suggestions directly beneath the search bar while the user is entering a search term. This means that spelling mistakes can be avoided and the usability of the search engine can be improved. An image typeahead can also show the user product suggestions relating to their search entry.
Manual configuration
Despite the intelligent algorithm, there may be occasions where manual adjustment of search results is required — e.g. in order to promote specific marketing campaigns. These adjustments can be integrated using a results management tool. For example, specific products can be prioritized, removed from a visitor's search results, given a specific weighting, or displayed in a certain order.
After-search navigation
The after-search navigation feature includes the sorting and filter functions of the onsite search engine. Dynamic faceted search filters refine the search results according to certain criteria, such as color, size, and brand, meaning that only the products that match the selected characteristics are displayed.
By contrast, the sorting function simply organizes the search results on the basis of specific criteria such as price, offer, and release date. Both of these functions provide users with an overview of products that match their search request in a shorter timeframe.
In addition to these functions, it is important that the site search in an online store is tailored to that specific store. Every store has different requirements, perhaps due to the products it sells, the descriptions it uses, or its customers and their searching habits — and an efficient site search can help meet these requirements.
How are Efficient Onsite Search Engines Used in Today's E-Commerce Landscape?
Although the search features described above are vital for reducing the bounce rate and improving the usability of an online store, these features are by no means the standard in e-commerce. Quite the opposite, in fact: Most online stores do not employ an efficient site search. For example, an error tolerance feature is only supported by around 25% of online stores, and just 30% of stores have incorporated an autocomplete feature.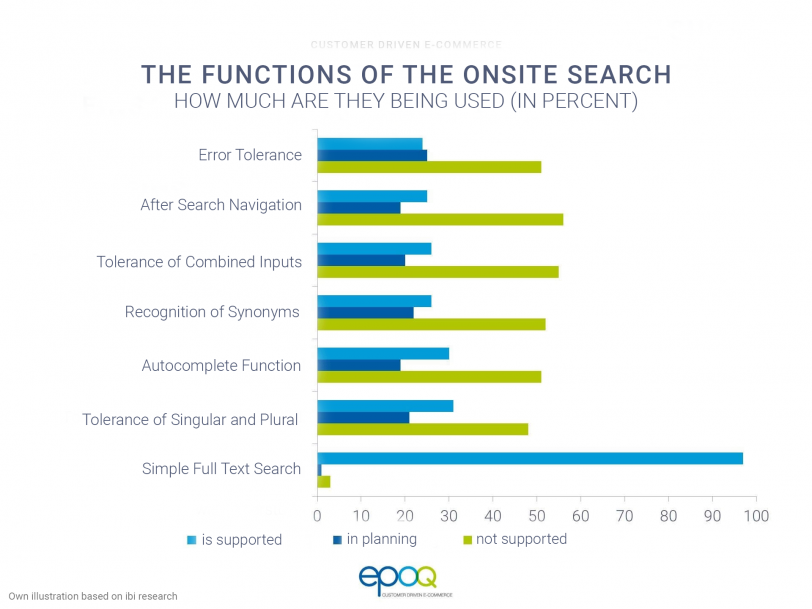 Our Verdict:
An efficient site search offers huge potential for optimizing performance in e-commerce. Having a search engine that is both fast and intelligent improves the customer experience and reduces the bounce rate. This also means that the conversion rate is six to eight times higher for online stores that use a search engine than for stores that do not, proving that an efficient search engine can add significant value to an online store.
If you would like to improve your site search and generate added value for your online store, follow this link: Learn more about efficient search functions.
Sources:
1 E-Commerce Leitfaden
2 Ibi Research
3 Statista
4 E-Commerce Alive
These articles could also interest you