Discover New Sales Opportunities in the Checkout Process
19. February 2018
Adding Shopping Cart Value Traffic steigern
You should never underestimate the checkout process in an online shop. If any elements are missing, such as information on shipping costs or payment methods, this may cause a customer to cancel their purchase. You should always check that this information is up to date. However, there are also new sales opportunities that you can capitalize on in your role as a shop owner. In this blog article, we will explain what these opportunities are and how you can make use of them.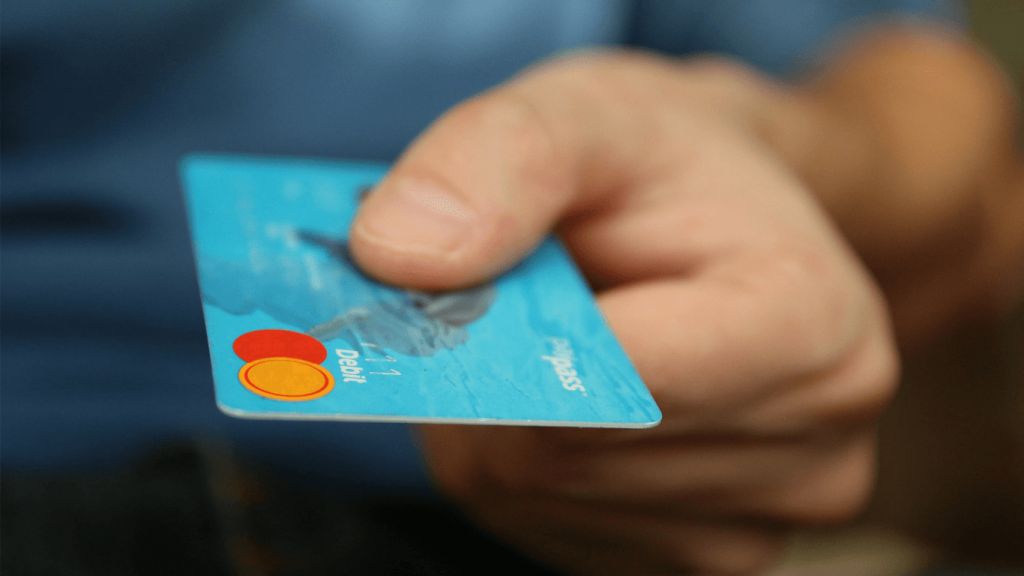 The Checkout Process at a Glance
If an online shopper finds themselves on a product details page and decides to purchase the product, they can add the item to their shopping cart with just one simple click. The customer now has the option to continue shopping or to go straight to their shopping cart to begin the checkout process. To encourage them to progress to this stage of the customer journey, the product details page must have first laid the proper groundwork. Read our blog article on this topic: "How to Use the Product Details Page as Leverage."
If your product details page is good enough to convince your customers, you now move on to first stage of the checkout process — the shopping cart.
Station 1: The Shopping Cart
First of all, to guide your customers from their shopping cart to the checkout, you should make it easy for them to find certain key elements related to their purchase. These elements can be, for example, an image of the product, a brief description of the item, shipping costs, payment methods, etc. You can use various statistics to pinpoint specific areas that require your attention. Statista, for instance, provides statistics on the reasons why purchases are cancelled, from where you can get a few ideas.
Station 2: Delivery and Payment
At this station, you will need the customer's data in order to be able to send the product and bill the customer. You also have the option to ask the customer if they want to sign in to or register for a customer account. If the customer chooses one of these options, their data is stored and will not need to be re-entered. This should not be a compulsory step, however, since mandatory registration could cause a customer to cancel their purchase. Instead, you should allow the customer to make a purchase "as a guest."
Station 3: The Payment Process
On the last page, your customers expect to see an overview of their order with all the information relating to their purchase in a clear manner. If this information is complete and correct, it is highly likely that your customers will confirm their purchase with a simple click and continue to the "thank you" page.
Station 4: The "Thank You" Page
The "thank you" page is an important element in the checkout process. You can use this page to thank the customer and to endorse their purchase with positive emotions, for example with the message "Thank you for your purchase — you've made the right choice." Furthermore, you can make your thank you page informative and user-friendly by including the order number, a brief overview of the purchased items, and information on how to get in touch with questions.
The order confirmation and tracking information for the package should still be sent to the customer via email, since this type of transaction email has now become standard and the information should still be available to the customer even after they have closed the thank you page.
Add Value to Your Shopping Cart
In addition to the product details, as a shop owner you can use the shopping cart to promote sales at the first station in the checkout process. In the shopping cart, you can offer your customers additional products that are relevant to the items they have selected. This is known as cross-selling. Cross-selling adds value for your customers by suggesting relevant articles so they no longer have to further browse through the online shop. Furthermore, it also gives you the opportunity to raise the value of the shopping cart and increase sales.
Cross-selling can be particularly interesting when it involves products that require additional materials in order to be used correctly, such as products used in handicrafts and decorating. If someone is looking to hang wallpaper, for instance, they will require paste and a roller in addition to the wallpaper. With cross-selling, online shoppers can be made aware of these additional products when viewing their shopping cart and can then add the products to their purchase.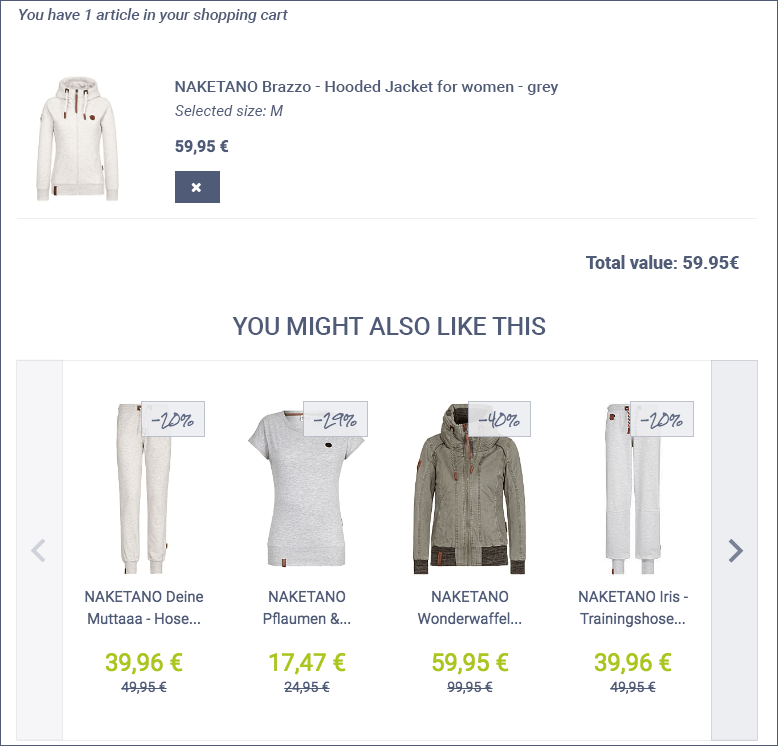 However, these additional products must be clearly identified as recommendations and not products that the customer has chosen to purchase. This will prevent the customer from becoming confused and backing out of the purchase. In addition, the recommendations should appear above the customer's line of sight, otherwise they may go unnoticed. Read our blog article on this topic: "The Hidden Seller: Why the Positioning of Product Suggestions Is Key."
At epoq, experience has shown us that up-selling strategies in the shopping cart should be treated with caution. These strategies can lead to the customer becoming uncertain about whether they have selected the right product. As a result, the customer may want to back out from the purchase, which is why cross-selling recommendations work much better here. However, these recommendations should not be displayed on the basis of inspiration, otherwise the customer might cancel their purchase if, for example, wall paint is recommended for a pasting table. Wallpapering tools would be a much better fit in this case.
An alternative to displaying cross-selling recommendations in the shopping cart is to display them in the shopping cart layer. Looking at the entire industry, we have found that displaying recommendations in the shopping cart layer achieves the best results in terms of cross-selling products. This is because the customer has not yet gone through with their purchase in their head.
Another way to increase the value of the shopping cart in the checkout process is to set up a checkout area, similar to one found in a physical store. You can offer the customer small, cheap items related to their chosen product — the type of additional items that end up being added to a customer's shopping cart in a physical store. This is just as effective in an online shop as it is in an offline store. In addition, an online shop allows you to match small items to the customer's chosen products, which is hardly possible in a local store.
What to Do If a Customer Cancels Their Purchase
First of all: don't panic. If the customer backs out of the checkout process, you still have the option of contacting them discreetly and directing them back to their shopping cart. How? By sending them a shopping cart cancellation email. After a few days have passed, you can remind the customer that their items are waiting for them in their shopping cart by sending them a prompt such as "Your package is waiting for you" or "Don't forget about me." Similarly, you could also send them a discount code to make their purchase even more tempting. Read our blog article to discover how this works in more detail: "Increasing Sales through Customized Shopping Cart Cancellation Emails."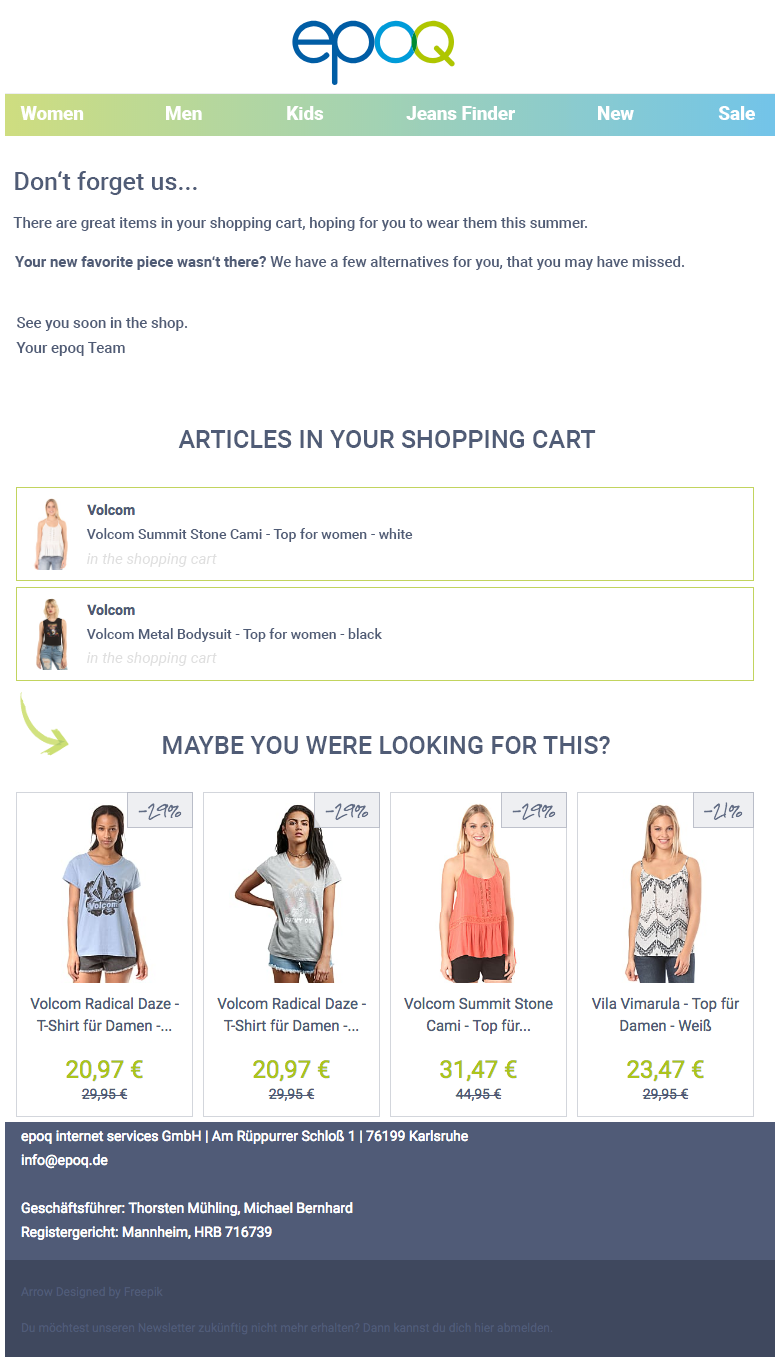 Use the Thank You Page to Encourage Customers to Continue Shopping
A thank you page should contain more than just information about the purchased product. Here, you have the opportunity to encourage your customers to continue shopping — and relevant recommendations can help you to achieve this. By analyzing the behavior of your customers when shopping online, you can determine which products are most likely to peak their interest. It is customary to enlist the help of a recommendation engine that uses artificial intelligence to automatically display relevant recommendations in your shop in real time.
Accompanied by the prompt "Are you already familiar with these products?", you can integrate a widget into your thank you page and direct your customers to the product details page all over again. Similarly, you could redirect the customer to a special landing page that relates to their purchase. If a customer purchases a pair of ski goggles, for example, you could direct them to a landing page with a skiing holiday theme and offer them additional products with the aid of digital storytelling.
At epoq, experience has shown us that suggesting products from categories that the customer has not already looked at during their visit has the greatest effect. Since the customer has already ordered at this point, there is no harm in showing them everything that your shop still has to offer.
Use Transactional Emails to Increase Traffic
When you send the order confirmation, why not also offer cross-sell products associated with the purchased items? In doing so, you can draw your customers' attention to additional, relevant items and direct the customer back to the online shop via their personalized email. This will increase your traffic as well as your sales.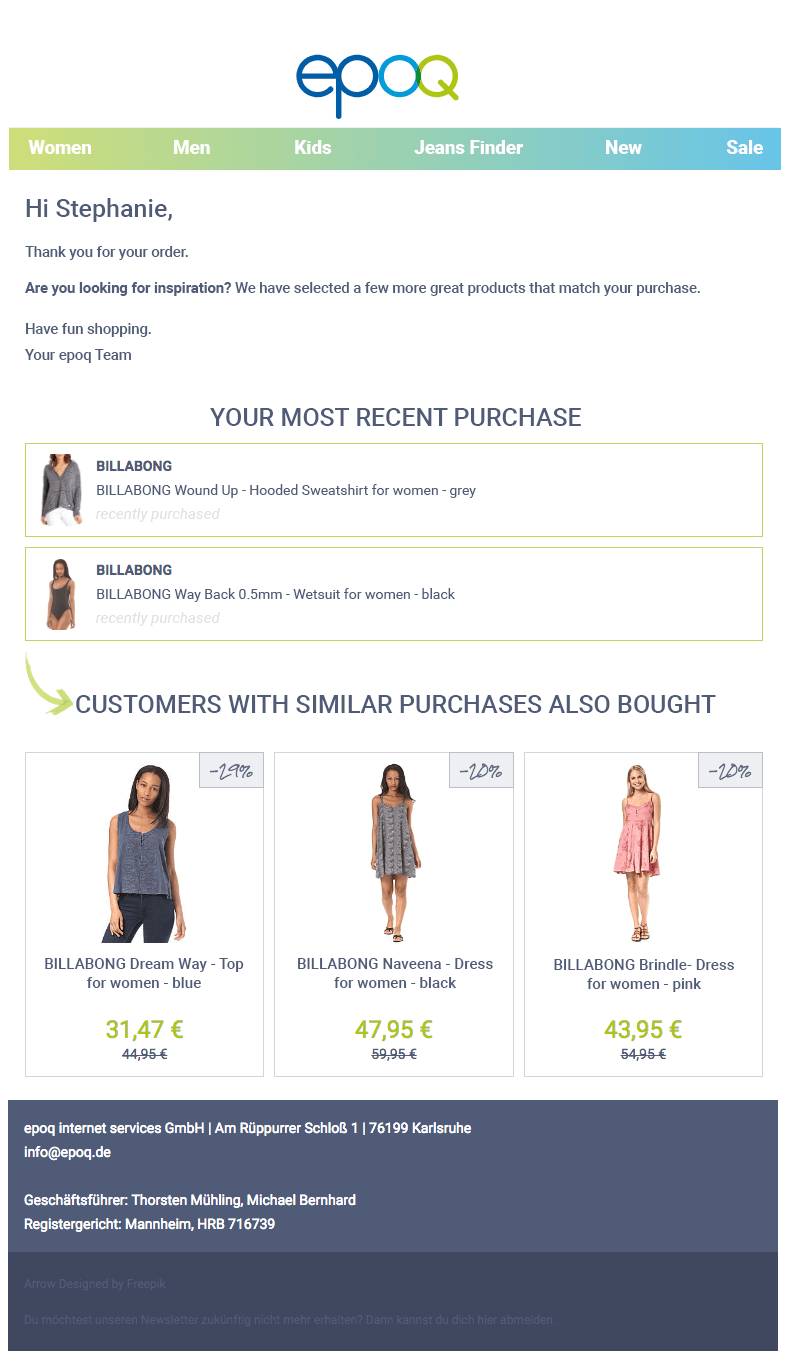 At epoq, experience has shown us that personalized "outfit" emails have a high success rate in the fashion industry.
Check out our article on how to "Increase Website Traffic and Engagement Using Transactional Emails."
Conclusion: Turn Your Checkout into a Check-In
In addition to optimizing your checkout, there are several ways in which you can encourage online shoppers to "check back in" to your online shop and make new purchases. To do this, use designated stations that you can personalize in your checkout process. If you get this right, you can create new services as well as new sources of revenue.
Learn more about personalization of the digital customer journey:
Download the Onepager now!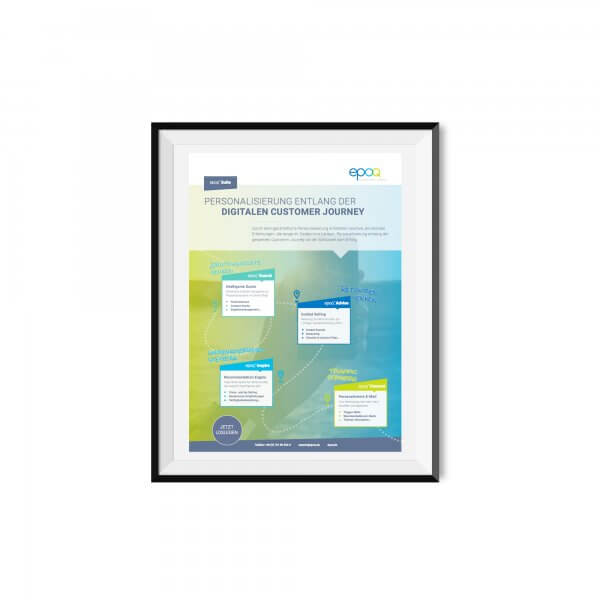 1 out of 1 found this helpful